Overview
Tetra provides Human Resource Management Software which can help client manage their manpower starting from Recruitment to Relieving, including payroll.The solution is available both in house as well as as on cloud.
Our vision is to enable growing and mid-sized companies to do profitable business and manage their multinational and multi-subsidiary business operations in real-time around the world by delivering the integrated and online business application in cost effective ways.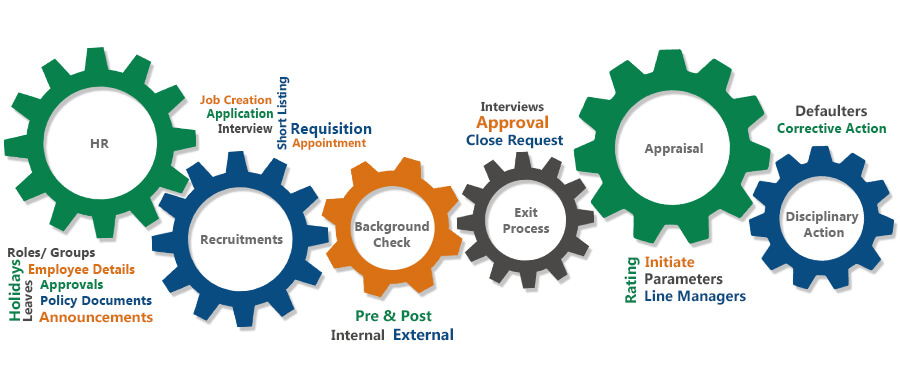 Key Features
Core HR takes care of all master and employee details.
Fully integrated payroll processing system with compliance. Integration with attendance systems.
Complete performance management system which includes KRA, Appraisals and Competency mapping which is supported by approval workflows.
Leave management, which is supported by e-mail and SMS gateway.
Travel management which takes care of sanctions and tour claims thereafter with workflow.
Employee self service which helps employees to enter their requests and view status of those requests.
Employee portal is a link between employees and the organization.
General
Multi companies can be handled.
Complete hierarchy of a company like Head Office Regional Offices Multiple Offices (office can be Sales Office or Go-down or service Centre).
Two level authentications are build to secure the application one is HTTP security second is application level security.
Role based access to the options from the main menu of the application.
All the reports are convertible into different types like pdf, xls, rtf, ppt, txt etc.
Benefits
Complete Web based software.
Operating Model for multiple offices can be owned or outsourced.
Options can be kept at HO level for centralized control and decision making.
Single view of all branches with their transactions at HO level to compare all the branches. Branch will be able to view his own transactions and not the transactions of other branch.
Specific type of transactions can be routed through HO, with the use of this option, specified transactions of specified branch will happen after approval of HO.
Whole application is accessible through web browser, so no client is required to be installed on PC to access the application.
HRMS Customization Services
Tetra helps in customizing an HRMS package that can be very reliable and cost effective. HRMS packages are designed to support customization, so most businesses implement the best practices embedded in the acquired HRMS system. Some HRMS packages are very generic in their reports and inquiries, such that customization is expected in every implementation. It is important to recognize that for these packages it often makes sense to buy third party plug-ins that interface well with your HRMS software rather than reinventing the wheel.
Customization work is usually undertaken as bespoke software development on a time and materials basis. Because of the specialist nature of the customization and the 'one off' aspect of the work, it is common to pay in the order of per hour for this work.
Allow our representative to either call you in 24 hours or E-Mail you for more details about our services - Click Here.